Iquitos is the starting point for your trip to Darvinia. Iquitos is a colorful city of over 300,000 inhabitants carved out of the jungle on the banks of the Amazon. It is accessible only by plane or boat. It sits at about 5° south of the equator at 347 ft above sea level.
Transportation in the city is primarily via motocars, motorcycles and bus with motocars the best way to get around to see the city and visit its attractions. Internet cafes and ATMs and banks are readily accessible.
Transportation to areas along the Amazon or it's tributaries is via boat.
In the area near the Plaza de Armas both restaurants and sleeping accommodations can be found. Excellent restaurants are located near the Plaza; one of them is La Noche with a wonderful location on the river. The Belen market is nearby as well as stores selling all kinds of wares.The Iquitos Zoo has a very nice selection of local animals and is located on a scenic lake about a 1/2 hour scenic drive by motocar.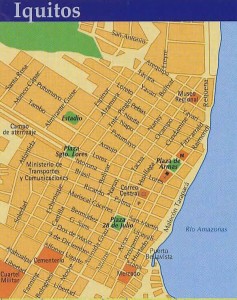 Two photo albums of the city can be viewed here.
Iquitos Weather
The normal weather in Iquitos,  which is located at 3.75 degrees south of the equator, is botanically classified as everwet tropical rainforest – with no rainy or dry season and high humidity. The months with relatively less rain are June – September, with averages of 6 – 8 inches; and the months with relatively more rain are November – May, with averages of 9 – 13 inches.  These tropical rains, which usually fall as heavy showers of short duration during late afternoon or night time, have a delightful cooling effect.  There is a great yearly flooded forest season, December – May, during the warming period in Andes when there is melting snow, and relatively more rain falling in the lowland and upland forests.  Neither is there a hot or cool season.  The normal monthly mid-day averages are 85-90 Fahrenheit; and early-dawn averages are 69-74 Fahrenheit.  Every month there are some exceptional mid-day temperatures above 90 Fahrenheit; and some exceptional early-dawn temperatures below 69 Fahrenheit.  In the hottest months when the lowland forests are no longer flooded, August – November, mid-day temperatures are often 93-95 Fahrenheit.  Throughout the entire year, from sunrise till mid morning, and from mid afternoon till sunset, the temperatures are not too hot for physical activity; and most of the night time temperatures are pleasantly cool.